Fun, Interactive and Engaging Business Games
If you are looking to add an exciting business focused activity in your next conference, corporate event or team meeting then a business game may be just the thing. Designed to engage attendees and deliver key business messages they are proving to be a very popular addition to events that may have previously been filled with numerous dry PowerPoint presentations. Our games are fully interactive and include many great elements of competition to keep the excitement up right to the closing comments – and often in the bar afterwards. The automated business games platform will help keep up the pace and energy in the room, leading to a truly memorable session.
Designed Specifically for Events
Our range of business games for events have been designed to work seamlessly and effortlessly in any event, whether it's with a local team meeting or an international company event.
Interactive, dynamic and engaging scenarios
Team based and competitive
Instant results and feedback
Run and managed via our advanced simulation platform
2 to 8 hour game options available, that can be incorporated into your agenda over multiple days
Big screen results for on stage excitement
Integrated league table for declaring the winning teams
Customised and fully bespoke service available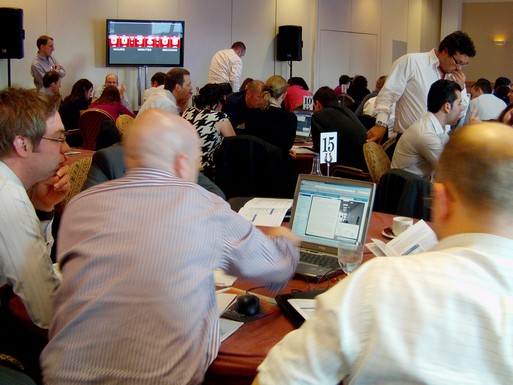 "The feedback we have had from all the team has been very positive. I must admit I have never before seen our sales team give up pre-dinner drinks to complete a task in a team building exercise. This was a first!"
J.S., EMEA Director, BancTec
An Innovative & Low-Hassle Solution
To ensure that your event goes smoothly and with the minimum of work for you, we run all games on our advanced simulation platform. This handles all of the game set-up, logins, content delivery and results – leaving you to focus on your attendees. It also means that all teams can take part and interact via a web browser.
All games run off our proprietary games platform
Automated set-up, management and results processing
Rich, interactive content via a web browser
Games for 5 to 500 people
Fully-Facilitated and Self-Facilitation options
Teams simply require an internet connected laptop/tablet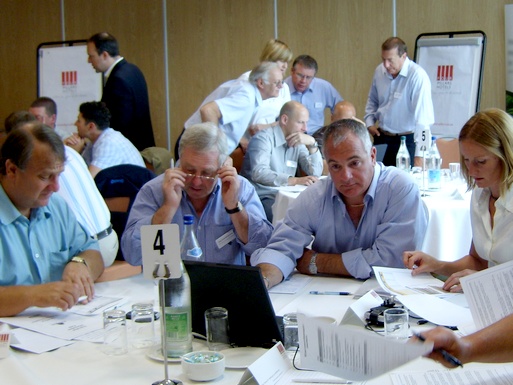 "The simulation worked really well and created a fantastic buzz over the two days. It was great to see our managers so absorbed and engaged in the simulation; with many desperate to see the next set of results and find out if they had beaten their peers!."
S.C., Director, Barclays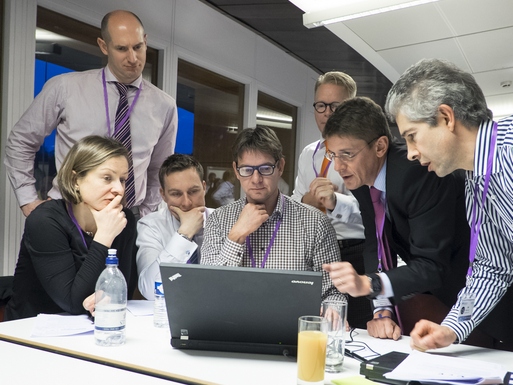 Capgemini
Regional Conference
Capgemini, the global consulting firm, wanted one of their divisions to become more aware of the bigger picture and engage with their client across the business. We provided a business simulation which focused on the needs of the customer, whilst developing a sustainable business. Not only did the consultants enjoy the experience, but the senior executives, who were the sponsors, immediately saw the value of such an experiential intervention.
Grant Thornton
On-Boarding Sessions
Grant Thornton are one of the fastest growing accountancy and advisory firms. To support the growth in the business and the regional teams they sought an interactive business focused activity which could be used within their Regional Advisory Academies. Each simulation event hosts up to 80 participants who are all immersed in a rich business simulation to help hone their business acumen and try to outsmart their peers and create the best performing business.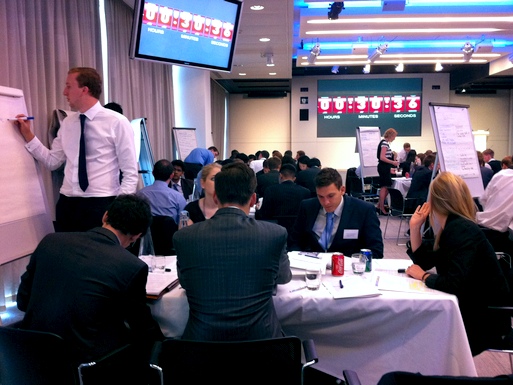 Barclays
Graduate Event
As one of the World's largest banks, Barclays have invested in the development of their management teams. Along with developing their managers' leadership capability they have also focused on developing their commercial acumen. We worked with their learning teams to develop customised simulations to raise the commerciality of a number of grades of managers from across the business. Our solutions included workshops, online learning and business simulations and covered over 750 managers.
To explore how one of our business games could add some excitement, and learning, to your event please complete the Contact Us form and we will be in touch within 24 business hours.