Using Simulations to Accelerate Capability Development
Simulations have long been used, in the airline industry, to develop core capabilities of pilots and have proven themselves to be a very powerful and effective way to do this, in a realistic but safe environment. Our corporate and business simulations work in the same way, but are focused on developing the capabilities required within the corporate environment.
During 10 years of research, development and deployment our simulations have delivered some of the richest and most relevant learning experiences to corporate managers from across the Globe. Our simulations initially targeted the capability of business acumen and have since expanded to reach the majority of capabilities our clients are aiming to develop in their staff, managers and executives. Some of the core capabilities are described below, but with our bespoke services we can develop simulations to meet any specific capabilities your organisation is working on developing.
Higher Learner Engagement
Using the latest experiential learning, active learning and gamification techniques (including an element of fun and competition!) we ensure our simulations engage, stimulate and develop the managers' capability in a more efficient and enjoyable way.
The higher levels of interactivity and engagement, of our simulations, provides a learning environment where participants quickly get absorbed in the learning and immediately put this into practice before receiving tailored feedback on their progress. Finally, participants leave the simulations sessions with an enhanced capability and the desire to apply this into the workplace to achieve greater results for the organisation.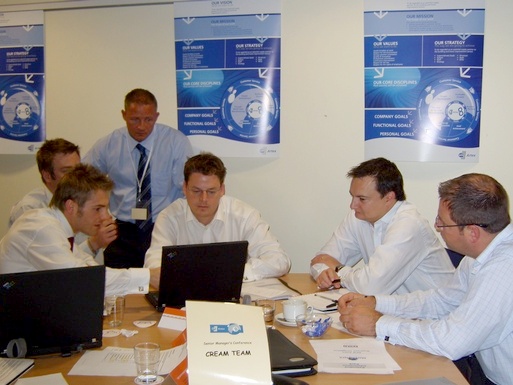 Developing Core & Specialist Capabilities
The core capabilties our simulations develop include the common set most corporate organisations focus on, those of, management, leadership, business acumen, commercial awareness etc. Each simulation allows participants to develop their capability within a realistic business context to ensure a high level of relevancy and transferability, to the real world. The business context can either be generic or one developed to mirror your exact business and the situation it is right now.
To see which type of simulation is best suited for each capability, please view the capability matrix opposite.
Context
Generic Business
Industry Specific
Your Business
General Business Acumen
✓
✓
✓
Business Strategy
✓
✓
✓
Business Management
✓
✓
✓
Finance
✓
✓
✓
Operations
✓
✓
✓
Supply Chain
✓
✓
✓
Sales
✓
✓
✓
Marketing
✓
✓
✓
Customer Service
✓
✓
✓
Human Resources
✓
✓
✓
Leadership
✓
✓
✓
Your Specific Capability
✓
✓
✓
Off-The-Shelf
OTS / Tailored
Bespoke
For an initial discussion about how simulations could help develop the capabilites of your staff and managers please complete the contact us page and we will be in touch within 24 working hours.